Why should you buy loose diamonds with a laser inscription?
14 Jul 21
Why is a laser inscription so important?
The technical process.
Wat if my diamonds do not have a laser inscription?
Why is a laser inscription so important?
Just as certificates, laser inscriptions guarantee the quality and authenticity of loose diamonds. The inscription lasered into the diamonds is a unique ID (certificate number), the same as on the certificate. If you want to buy loose diamonds, you should therefore always check if the laser inscription corresponds with the certificate number.
Laser inscriptions are valuable to those who want to protect themselves against possible fraud or human error. When repairing your diamonds it is also important to inform your jeweler of the inscriptions, so that the symbols lasered into your diamond will not be damaged.
If you buy a loose diamond with a laser inscription on the girdle of the stone, you can be confident that the diamond is of the same quality as indicated on the certificate. BNT Diamonds works only with certificates of the most renowned gemstone laboratories in the world: the Hoge Raad Diamant Antwerpen (HRD), the International Gemological Institute (IGI) and the Gemological Institute of America (GIA).
The technical process
As mentioned earlier, the combination of letters and numbers is almost always lasered into the girdle of the diamond. The girdle is the part of the diamonds that visually cuts it in two halves, and connects the pavilion and the crown. The laser technology ensures that the diamond is not exposed to direct heat and therefore your diamond will not be damaged or destroyed during the inscription process. The laser equipment is able to laser diamonds ranging from 0.05 to a thousand carats with such precision, that different fonts, styles and inscription depths are a possibility. These inscriptions are only visible under a microscope or when using a special diamond magnifying glass. Because of this high-tech equipment, purchasing loose diamonds has never been as safe.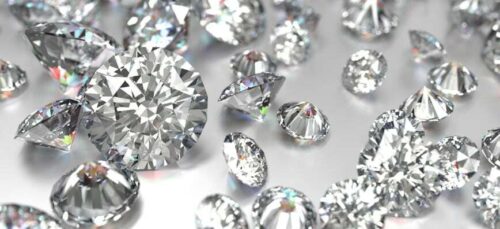 What if my diamonds do not have a laser inscription?
A laser inscription with corresponding certificate provides assurance to the traders and investors that wish to buy loose diamonds. This does not mean that the quality of diamonds without a laser inscription is sure not to correspond with the quality disclosed on the certificate. Some traders and producers choose not to pay extra service. Moreover, a diamond certificate from an independent laboratory is generally only offered with diamonds with a carat weight of 0.30 and more. Apart from laser inscriptions, diamonds can also be identified through inclusions, irregularities, their weight, colour and other information written on their certificate.
If you wish to purchase loose diamonds, you can be assured that BNT Diamonds only sells tested high quality diamonds, certified by the world's most renowned gemstone laboratories. Investors can request to purchase diamonds with their certificate number inscribed in them, if they so wish. Please contact us for more information.
For further information, read the following articles:

With this article, BNT Diamonds strives to inform you thoroughly about investing in diamonds. No investment can be guaranteed to be without risk or fully according to your expectations. That is why we recommend to research the risks and aspects of investing in diamond properly to ensure that you make the right choice for your portfolio.