The diamond price of the Pink Star breaks every record
12 Jul 21
A diamond price which was too high for Isaac Wolf
A diamond price can fluctuate
The love for coloured diamonds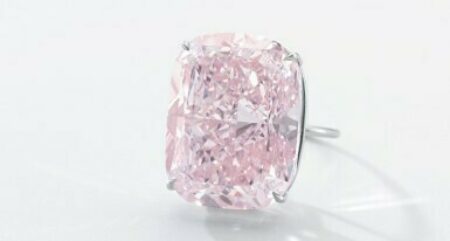 Exactly 59.60 carat (11.92 grams) is the weight of the Pink Star, which speaks to the imagination and is also known as the Steinmetz Pink. In 1999, the rough diamond was discovered in South Africa and weighed 132.5 carats. It took for over twenty months, to cut and work on the largest 'Vivid Pink' diamond ever. On May 23, 2003, the investment diamond was revealed by Steinmetz Diamond, also known as the Benny Steinmetz Group. The diamond has been graded by the Gemological Institute of America as 'Fancy Vivid Pink'.

A diamond price can fluctuate
However, On April 4 2017, the diamond could finally be sold, but at a significantly lower price. Chow Tai Fook is a Hong Kong jewel retailer, who paid $ 71.2 million for the pink investment diamond. That makes the Pink Star the most expensive diamond ever sold on an auction. Previously, the world record was the diamond going by the name "Oppenheimer Blue", sold in 2016 at Christie's for $ 57.5 million. For a very long time, it was predicted that the world record would be set by the Lesedi La Rona, the second largest diamond in the world. However, the auction at the end of 2016 had no success, as they hoped in vain for a $ 70 million diamond price.
The love for coloured diamonds
The list with the highest diamond prices contains a lot of coloured diamonds. No coincidence, because a brightly coloured diamond is very rare, since only 1 in 10,000 diamonds has a distinctive natural colour. When investing in coloured diamonds, less attention is paid to purity and cut quality, but more to the intensity and distribution of the colour in the diamond. Among the coloured diamonds, the bright blue, red and green diamonds are the rarest.
Whoever is looking for a unique investment with a guarantee on profit can always count on the experts at BNT Diamonds. Do not hesitate to contact us and together we will discuss your investment plans.


With this article, BNT Diamonds strives to inform you thoroughly about investing in diamonds. No investment can be guaranteed to be without risk or fully according to your expectations. That is why we recommend to research the risks and aspects of investing in diamond properly to ensure that you make the right choice for your portfolio.